Can You Freeze Uncooked Cabbage? (YES! 5 Easy Steps)
Cabbage is a multi-purpose vegetable. You can enjoy it raw, roasted, or boiled, and incorporate it into snacks and stews. Also, it's packed with nutrients — but is it okay to freeze raw cabbage?
You can freeze uncooked cabbage. For the best quality, uncooked cabbage should be frozen for three months or less. However, the vegetable can be safe to consume for 18 or more months after freezing.
This article will cover everything you need to know about freezing cabbage. You'll learn about the methods for freezing all types of cabbage, how long it stays fresh in the freezer, tips to maintain optimal cabbage quality, how to defrost cabbage, and how to cook it once it's thawed.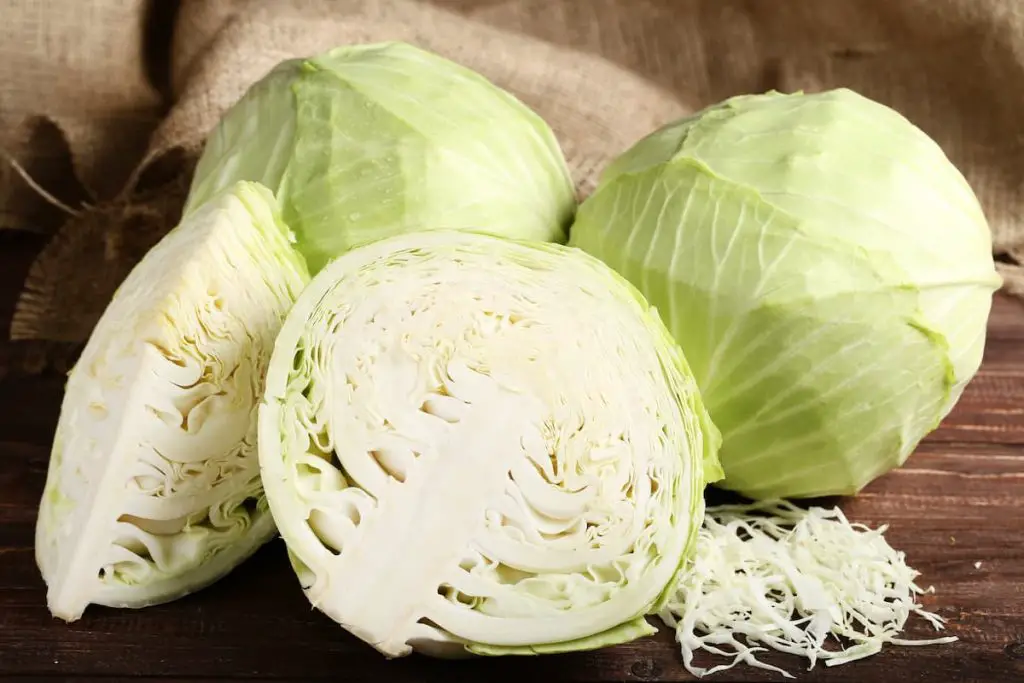 How Long Does Uncooked Cabbage Stay Fresh in the Freezer?
Uncooked cabbage can stay fresh in the freezer for three to 18 or more months. It retains its best possible texture and flavor if frozen for no more than three months. However, if you store it longer than that period, it will still be safe to eat.
Can All Types of Cabbage Be Frozen?
All types of cabbage can be frozen, and the correct method for freezing these cabbages is the same. However, green and purple cabbage has the strongest flavor, making them the best candidates for freezing over several months.
There are many species of cabbage. The most common ones you'll find in the grocery store are green, purple, white, and savory. Purple cabbage tends to have the firmest leaves, while savory cabbage has a softer texture. When freezing cabbage, account for the type of cabbage, the foods they pair best with, and the method you use to freeze them. 
How To Freeze Uncooked Cabbage (5 Steps)
When you freeze uncooked cabbage, it can be safe to eat for months or over a year afterward. However, the downside is that it may lose its taste and texture over time. Fortunately, if you take the proper steps to preserve it, uncooked cabbage can retain much of its original quality.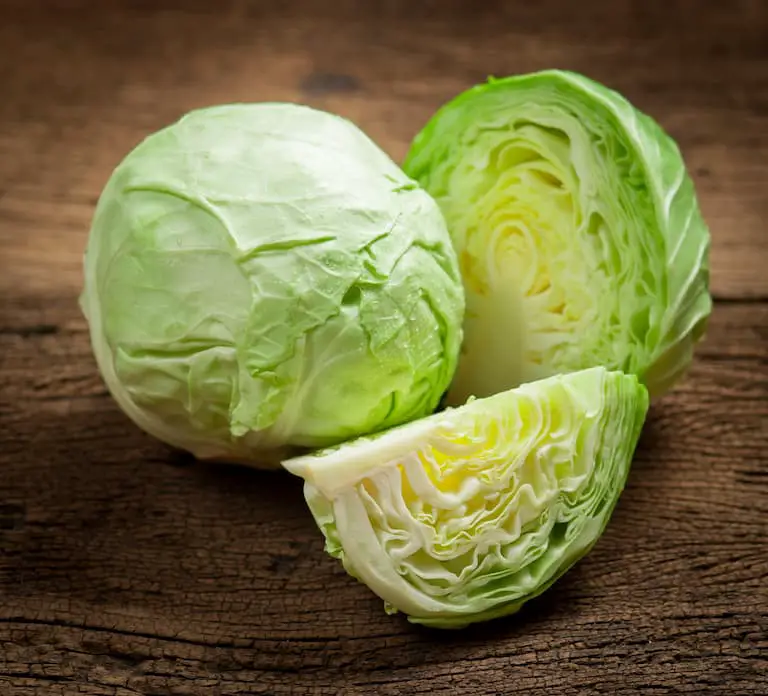 Here are the five basic steps to freezing uncooked cabbage.
1. Rinse and Clean The Cabbage
Whether you want to freeze your cabbage whole or chopped, it's best to rinse your cabbage prior to freezing. Here's how to wash cabbage:
Rinse your cabbage and remove any dead leaves. 
Place the cabbage in a bowl of salt or vinegar-water mixture. 
Allow it to soak for about half an hour. This step helps rid your cabbage of bugs, dirt, and other impurities.
2. Dry The Cabbage
Remove the cabbage from the water containing the salt or vinegar-water mixture, and thoroughly dry it. Make sure you don't see any traces of moisture. Otherwise, damp cabbage won't freeze properly and may become unsafe to eat since moisture attracts harmful microorganisms.
3. Cut The Cabbage or Leave Whole
There are several ways to cut cabbage, depending on how you plan to use it in the future. You can cut it into leaves, strips, and wedges. Choose your method of chopping up your cabbage before slicing it. I'll talk about this step in more detail later. 
Alternatively, you can keep it whole — in which case, you can skip this step.
4. Pack and Label Cabbage in Airtight Container
Store your cabbage in an airtight container or ziplock bag. Make sure no air gets into the container after packing; otherwise, the raw cabbage will deteriorate quickly. Then, label it with the date of packing. This step helps you keep track of how fresh your cabbage is when you defrost it.
5. Freeze The Cabbage
Once you have properly sealed the cabbage, place it in the freezer for later use. Make sure you use your cabbage within three months for the best quality. As noted earlier, uncooked cabbage can stay frozen for 18 months; however, there will be a noticeable decline in the taste and texture.
Different Methods for Freezing Cabbage
There are quite a few methods for freezing cabbage. They all follow the same basic steps mentioned earlier in this article, though a few may require some extra work.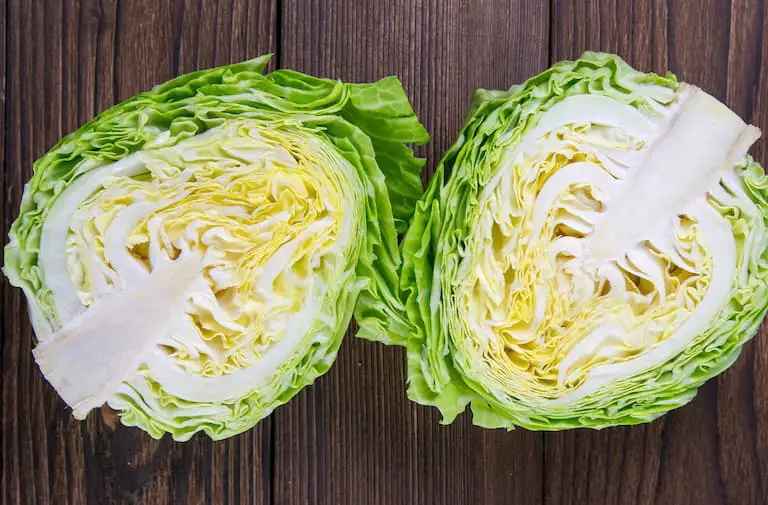 Freezing in Strips, Wedges, Leaves, or Whole
When freezing cabbage, one thing to consider is how it's sliced (or not) beforehand. The four most common ways of cutting cabbage are strips, wedges, leaves, or just leaving it whole.
Strips
If you cut your cabbage into strips, start by removing the leaves individually. Then, roll up the leaves and slice them into strips. The great thing about strips is that they defrost quickly, can be tossed into any dish, and are great for grab-and-go snacks. For example, if you're fond of Japanese rice bowl dishes, you can toss a few strips on top of your meal for that extra crunch and filling.
Wedges
If you're not sure how you're going to use the cabbage but want it in smaller pieces, wedges are the way to go. All you have to do is chop up the cabbage and freeze it. Wedges are also the best method for freezing raw cabbage since they allow for the greatest flexibility in terms of cooking method post-freezing.
Leaves
If you plan to make cabbage rolls or stuffed cabbage, storing individual leaves is the best way to go. Freezing cabbage leaves is similar to freezing strips, except you skip the part where you chop them up into strips. Because of that, you may have to do further chopping should you need to use the leaves in the future.
Whole
I don't recommend freezing cabbage whole for the most part. It takes up more space in the freezer and is harder to seal correctly. That said, freezing your cabbage whole may be a good idea if you have a lot of cabbage and want the freedom to use it however you want after defrosting.
Blanching
It's highly recommended you blanch your cabbage before freezing it. Blanching will cook your cabbage somewhat, and preserve its flavor and texture for significantly longer than if you choose to freeze it uncooked. This process also rids the cabbage of any impurities and contamination.
Once you cut your cabbage into your desired size and shape, it's time to blanch. Follow these steps to do so:
Bring a pot of water to a boil. 
Boil the cabbage for ninety seconds to three minutes, depending on the size of the pieces. 
Put the cabbage into a bowl of ice water. The cold temperature prevents the cabbage from overcooking. 
Dry off your cabbage. Once it's dry, it's ready to freeze.
Flash Freezing
After blanching your cabbage, you may also want to flash freeze it before storage. Note that whole and wedged cabbage don't benefit from this step.
Despite the technical-sounding term, flash freezing is easy: Just dry and lay your cabbage pieces on a cookie sheet and freeze for six to eight hours before storing them in an airtight container.
Tips on Freezing Cabbage
Freezing cabbage is an easy process that doesn't require much time and effort. If you want your cabbage to retain its taste, texture, and nutritional value after defrosting, you should take extra measures to ensure freezing is done properly.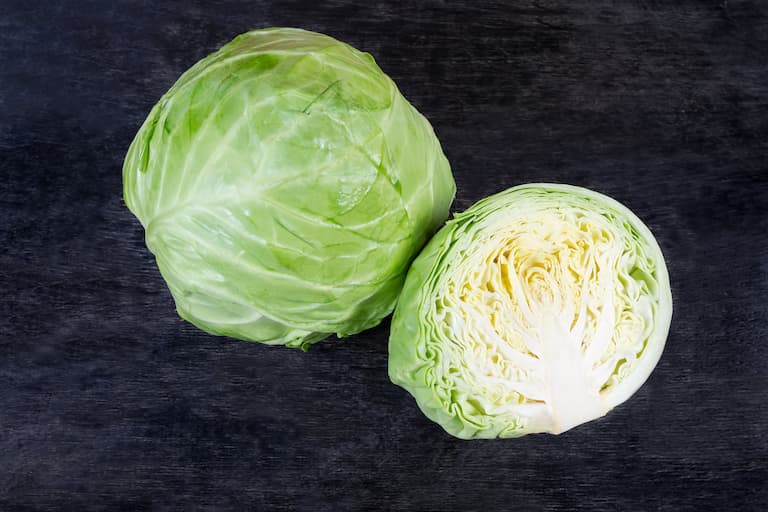 To properly freeze cabbage, follow these steps:
Plan how you want to use the cabbage after defrosting. Then, slice the vegetable accordingly.
Don't store it in the freezer for more than three months ideally. As I mentioned before, you can freeze cabbage for longer than that, but you should expect its quality to deteriorate somewhat.
Use cabbage with firmer leaves and a more pungent taste. That way, it's still flavorful and crunchy when defrosted.
Don't freeze it whole unless you haven't decided how to use the cabbage after defrosting.
Blanch and flash freeze to allow the cabbage to retain its best texture and taste.
Defrosting Cabbage
Defrosting cabbage is even simpler than freezing it. Depending on how you plan to use your cabbage, you may or may not need to defrost it. For example, if you're making stews or soups, you can toss the frozen cabbage straight into the pot as long as it's in wedges or slices. The cabbage will defrost and cook while boiling.
On the other hand, if you plan to eat your cabbage raw or have a whole frozen cabbage, you'll want to defrost it. This is a pretty easy step, fortunately. As long as you chop the cabbage before freezing, it'll defrost at room temperature within an hour.
Whole frozen cabbage will take a longer time to defrost depending on its size and how long it stayed in the freezer. In this case, it's best to thaw it by placing it in the refrigerator for several hours or overnight.
Cooking Defrosted Cabbage
As previously noted, if you're cooking your cabbage and aren't using it for salads or other raw snacks, it doesn't need to be defrosted before cooking. Just drop the cabbage into the boiling soup or stew, and it'll defrost and cook without much trouble.
Ensure that you slice the cabbage before freezing it. Otherwise, you'll have to defrost the whole cabbage at room temperature for a few hours first. If you froze your cabbage as leaves, you can let it defrost for half an hour before slicing it into strips.
Note that depending on your freezing method and the time it stayed in the freezer, your cabbage may have lost some of its taste and texture. If it's been over three months since you froze it, the cabbage may become flavorless and mushy, though it's still safe to consume.
Can You Freeze Uncooked Cabbage – Summary
You can freeze uncooked cabbage. Freezing uncooked cabbage is an excellent way to preserve one of Mother Nature's best vegetables. This process is straightforward, and usually only involves washing, cutting, and (of course) freezing. However, for optimal quality after defrosting, consider blanching and flash freezing the cabbage before storing it in the freezer. 
Once frozen, cabbage will last for months regardless of its size or species. Once you're ready to eat your cabbage, simply toss it into your soup or let it rest at room temperature for an hour or so before use.