Who Makes Insignia Freezers For Best Buy (A Brand to Trust?)
Insignia freezers and refrigerators are house brands sold by Best Buy. It's a private label, much like you find with Costco's Kirkland Signature items. Everybody seems to love the Insignia brand and the low prices but virtually no one knows who the actual maker is. So, who makes Insignia freezers?
Haier makes Insignia freezers, with the vast majority of them manufactured in China. Best Buy, who owns the Insignia brand, details the specs, lays out what they want, and Haier goes about the business of manufacturing them to Best Buy's preferences. 
If you haven't heard of Haier, you're not alone. However, Haier actually owns the majority of General Electric, and Haier also manufactures more than just refrigerators, including microwaves, washing machines, microwaves, and more.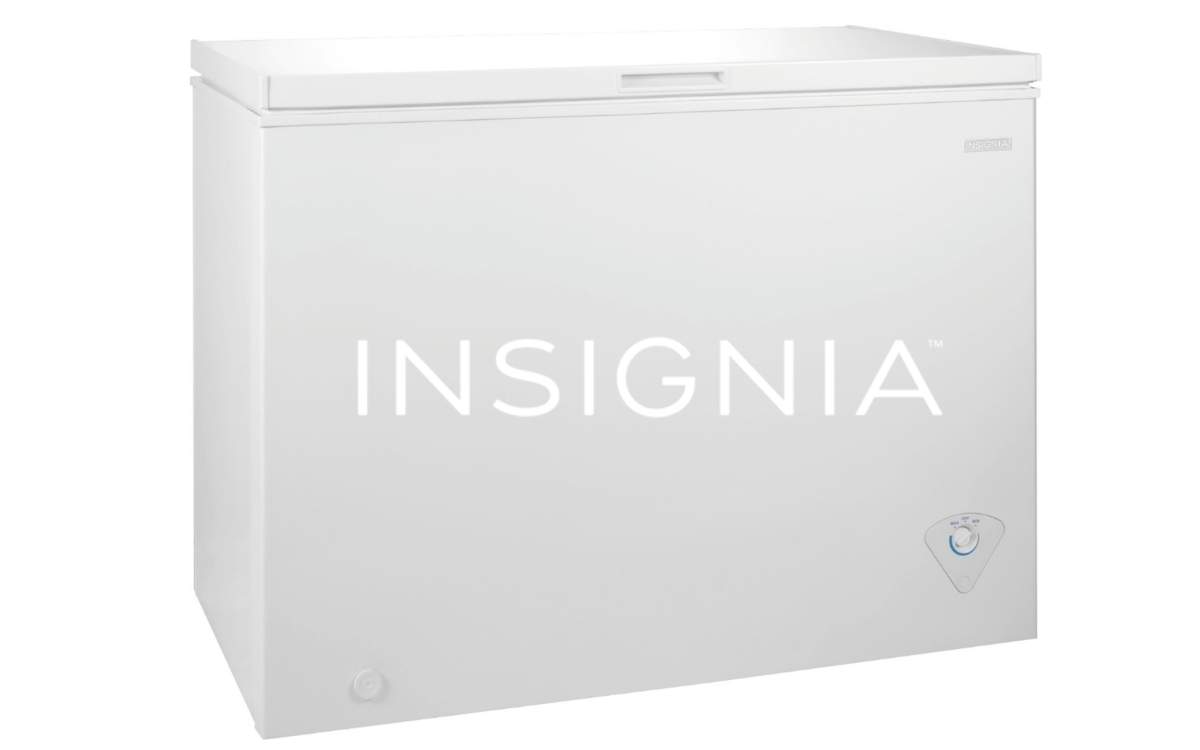 What Kind of Insignia Freezers Does Haier Manufacture?
Insignia sells two types of freezers. Chest freezers and standing freezers. Of those two, there are several popular models. 
Insignia—or Best Buy—sells more than just the above list but those just happen to be the more popular models that are available out there. The standing freezers are obviously the most expensive freezers, while the chest freezers are a bit more on the affordable side. 
Everybody probably remembers their parent's or grandparents' chest freezer in the back room, garage, or laundry room and that is essentially what you are getting here, with a few aesthetic upgrades to boot. 
Insignia freezers are popular because they do what they say they will do, without putting a damper on your power bill. Since they are designed by Best Buy and marketed by Best Buy, they are Best Buys most purchased freezers. 
Do Best Buy's Insignia Freezers Come with Warranties?
Best Buy has its own division of tech repair people called the Geek Squad. Most people assume that they are there for computer repairs and dealing with complex software issues on laptops, tablets, smartphones, desktops, all-in-ones, and Mac devices. 
However, that's far from the end of their job. All Best Buy Insignia freezers come with an industry-standard, one-year warranty. Since Best Buy doesn't technically build their Insignia freezers and Haier is located on another continent, getting some troubleshooting help with your Insignia is bound to be troublesome. 
Best Buy has a way around that, so long as you are willing to spend a little more money. When you purchase your Insignia freezer, you can also get a Geek Squad Protection Plan with it. 
The Geek Squad Protection Plan, which comes in the form of a 3 or 5-year pseudo-warranty, gives you something to turn to when it comes to customer service, troubleshooting, repairs, or warranty claims.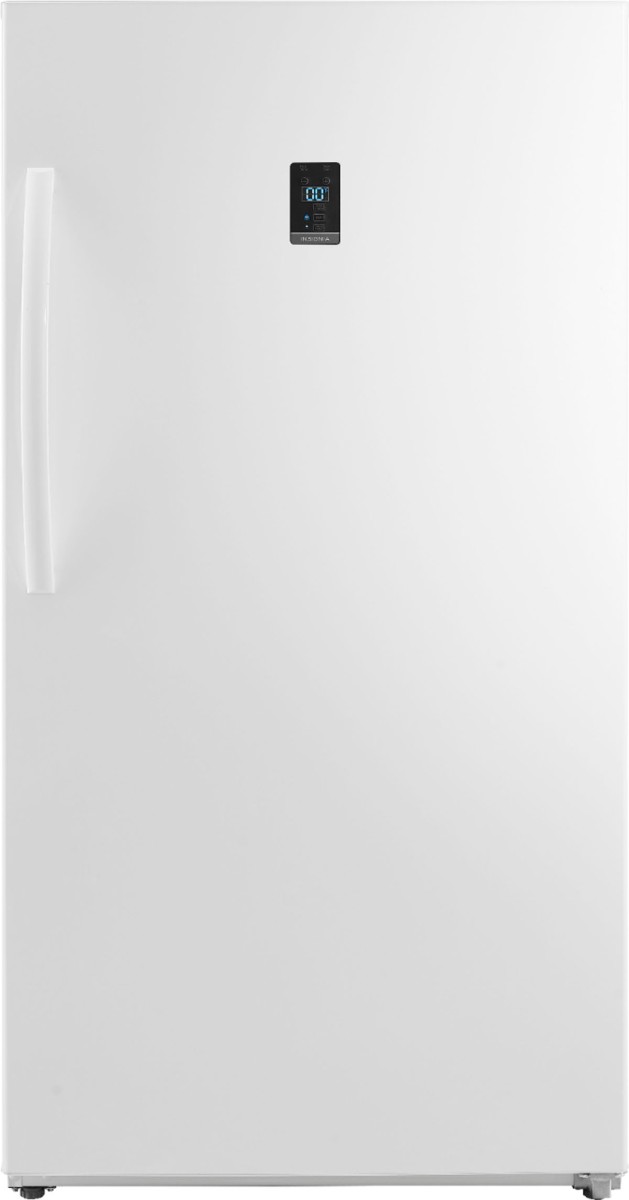 Are Insignia Freezers Worth the Money?
Insignia freezers are generally cheaper freezers than the competition, especially when you break the comparisons down to freezers that are nearly identical in shape, size, and function. 
Most would assume that because it's cheaper, it must therefore be inferior. We mentioned Costo's Kirkland Brand above and what makes Kirkland Signature products better than people realize is that the brands behind the Kirkland product are generally hugely popular brands.
When it comes to Insignia freezers and refrigerators, you're dealing with something similar. Best Buy has a reputation, despite the fact that its the largest and most popular electronics retailer in the country. That reputation doesn't allow them to sell shoddy products that have no longevity and end up being worthless over time. 
Insignia freezers are actually highly rated freezers along with being pretty popular across the board. Insignia freezers are simply cheaper because they are a Best Buy brand, completely in-house. 
Insignia's top freezers are listed above, however, two other freezers stand out at the top of the must-have list. The Insignia NS-RTM18 Top-Freezer and the Insignia NS-CFR32C1 Retro Mini-Fridge. 
Insignia Freezer
Pros
Insignia Freezer
Cons

A large and varied lineup
Budget freezers
Insignia often offers significant deals
Insignia freezers have a lot of features
Geek Squad Customer Support

Insignia freezers can be loud
Dim Interior lighting
Insignia freezers frequently make the top 5 or top 10 lists of best freezers every year. That's despite the fact that many of them are substantially discounted when compared to other freezers in its class, such as Samsung, LG, or Frigidaire. US News rates Insignia as the best budget freezer as well. 
Who is Haier?
In 2016, Haier announced that it had purchased General Electric, which was no small feat. General Electric has been around since the days of Thomas Edison and was as quintessentially American as they come. 
The deal was sealed for $5.4 billion, a sum that seemed huge 6 years ago but now seems relatively tame. Haier is a Chinese manufacturing company that also attempted to purchase Maytag back in 2005. The deal fell through but they continue to manufacture refrigerators at one of its facilities in South Carolina to this day. 
They are also heavily invested in Evansville, Indiana, where Haier has constructed a technology center. Despite Haier's recent, large moves towards acquiring major businesses, they have actually been around since the 1930s. 
Haier, however, never really established noteworthy success in China until the mid-1980s. Haier exploded onto the scene when consumers in China finally became able to purchase things that were before considered to be a luxury, such as air conditioning units and microwaves. 
Haier, being the lone appliances manufacturer at the top of the heap, naturally reaped all of the rewards. So much so, that they began acquiring larger companies, spreading out their influence and capabilities in a variety of product manufacturing. 
Of course, some of those acquisitions bring Haier into frequent competition with itself. For instance, Best Buy also sells GE freezers, which puts Haier-owned GE directly in competition with Haier-owned Insignia. 
How is Best Buy Able to Discount Insignia Freezers?
Regardless of how anyone feels about American products being manufactured in China, there is no arguing that it is far cheaper to do so. Manufacturing in America is currently far more expensive than outsourcing it to China. 
China doesn't have the same labor laws and there is no minimum wage there. They also apply no import and export taxes on products that are manufactured in China. Ultimately, that makes for an intriguing business decision, especially if Best Buy wants its own brand. 
This leads us to our second point. Insignia is a store-brand product. There is no middle man. Best Buy does not have to purchase a bulk order of freezers from someone else and mark them up to make a profit off of the floor sales. 
Also, when you have a store brand like that, there is no marketing involved. Best Buy doesn't have to spend millions on advertising. Best Buy doesn't have to pay a bunch of networks boatloads of money to run commercials on their Insignia freezers and refrigerator because Best Buy itself is the brand. 
Best Buy is a recognized power in the consumer electronics market. They do spend millions in advertising but those millions are spent on advertising Best Buy, not Insignia freezers. Insignia is a part of Best Buy so naturally, Insignia freezers are beneficiaries of Best Buy's good name. 
When you eliminate the middle man, eliminate the need for advertising, eliminate import and export taxation, eliminate the minimum wage, and eliminate the need to pay workers a high wage for manufacturing your freezers, you ultimately don't have to charge a massive price on the end result. 
Does Insignia Make More Than Appliances?
When you first read the word "Insignia," freezers are not what comes to mind. In fact, the first thought that crosses most people's minds is probably the line of Insignia TVs that are all over Amazon, Walmart, and Best Buy online shopping sites. 
Insignia is probably best known for its TVs, but they do manufacture a massive line of appliances, which is probably what makes up the majority of their profit margin at the end of the day. 
Who Makes Insignia Freezers – All Things Considered
Insignia freezers are manufactured by Haier, under the guidance of Best Buy's specs. Insignia is an in-house brand so consumers can enjoy the luxury of a premium appliance without having to take out a second mortgage to buy one. 
While there is nothing about an Insignia freezer that is absolutely going to blow your socks off, you will certainly get a reliable, long-term freezer option that you can appreciate.