Can You Freeze Applesauce? (YES! Homemade & Store Bought)
Applesauce is a great food to have available in your home, as it is delicious both on its own and in various recipes. It's easy to make on your own, too! However, if you do choose to make it on your own (or you prefer buying food in bulk), you might consider freezing it to prolong the shelf life and ensure that you always have some should you need it, but can you freeze applesauce?
You can freeze applesauce and it freezes exceptionally well. Well sealed in an airtight freezer bag or a freezer-safe container, applesauce will last for 6 to 9 months in the freezer. You can defrost frozen applesauce overnight in the refrigerator, where it will last another three or four days. 
Let's discuss the best way to freeze and thaw applesauce and how to make your own if you'd like. By reading this article, you'll be ready to keep as much applesauce as you need on hand, so you'll always be able to have a tasty treat!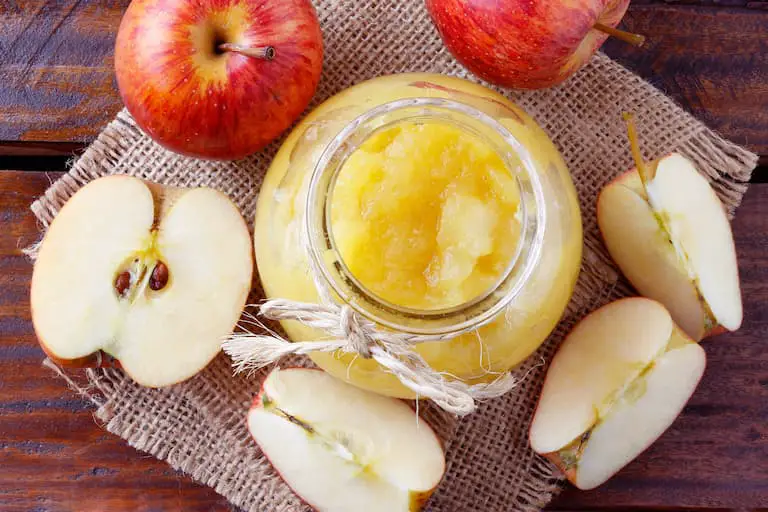 How Do You Freeze Applesauce? 
To freeze applesauce, simply put it in a freezer bag or a freezer-safe container and store it in your freezer. Keeping the bag or container sealed will prolong the life of your applesauce for up to nine months. Defrost it in the refrigerator overnight when you're ready to eat it. 
Freezing applesauce is easy. Both homemade and store-bought applesauce freezes well, so if you'd like to make a large batch or buy a lot of applesauce in bulk, you're in luck! 
Important Tips For Freezing Applesauce
The most important thing to remember while freezing applesauce is to prevent as much contact with air and moisture as possible to avoid freezer burn. Additionally, if you are making homemade applesauce yourself, it is best to freeze it soon after you make it because freezing applesauce that has sat in the fridge for a while will make it mushier and grainer when you defrost it. 
If you're freezing homemade applesauce, give it some time to cool before putting it in the freezer. If you try to freeze warm applesauce, large ice crystals will form, resulting in freezer burn. Freezer burn will ruin the texture and flavor of your applesauce. 
If you'd like to freeze your applesauce in individual portions, you can use a freezer-safe ice tray. I like these Amytor Ice Cube Trays from Amazon because they come with a spill-resistant lid, so you'll avoid having applesauce spill all over your freezer. These ice trays are also durable and dishwasher safe, so they'll be easy to clean after using all the applesauce you're freezing. After the applesauce cubes have frozen completely, you can pop them out of the tray and put them in a freezer bag.
To freeze large amounts of applesauce, just put the applesauce in a freezer bag and lay it flat to get out any air. Make sure you don't fill the bags too full, as the applesauce might expand as it freezes. I like the Ziploc Quart Food Storage Slider Bags from Amazon because they have a sturdy base, ideal for applesauce and other liquids and sauces that spill easily. They are also safe to use in the microwave, so you can heat your applesauce to thaw it if you'd like, and they are reusable and recyclable. 
You can also freeze the applesauce in a mason jar, like these GLING Regular-Mouth Glass Mason Jars from Amazon.com. These jars include super-tight lids that are great for meal prep and preservation, and their regular mouth makes pouring easy. These jars are microwave safe without the lid, dishwasher safe, and food safe. 
Once you have your applesauce in a freezer bag or container, it is good to label the applesauce's container with the date. That way, you'll be able to determine when the sauce expires.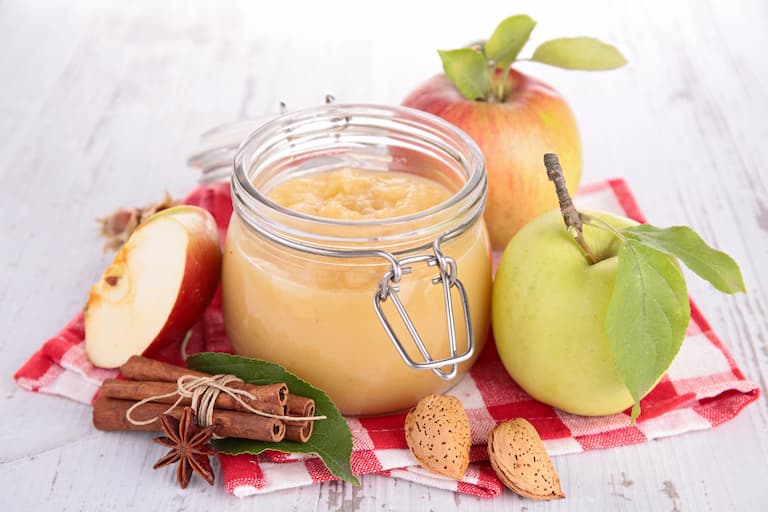 How To Thaw Applesauce (4 Ways)
When you're ready to eat your frozen applesauce, you have a couple of options for defrosting and thawing.
The best way is to remove the bag from the freezer and put it in the refrigerator overnight. Thawing slowly in the fridge gives your applesauce the best texture and consistency. 
Another way is to place the applesauce in a bowl of cool to warm water while it is still in its jar or freezer bag. The water conducts heat, which will warm up the applesauce quicker. 
You can also try putting your frozen applesauce in a microwave for minute-long sessions, stirring the applesauce every time. As it gets closer to being wholly defrosted, shorten your microwaving to 15-20 seconds. 
Finally, you can use your stove. Simply put the frozen applesauce in a non-stick pan or a pot and warm it on your stove at a low temperature. The thawing process will only take five to ten minutes using this method. 
If you're using the applesauce for a recipe, you may not need to defrost it. Frozen applesauce is great in smoothies! 
Once you've defrosted your applesauce, you shouldn't try to freeze it again. If you do, the applesauce will most likely taste and feel funny. 
How Long Does Applesauce Last in The Freezer?
Applesauce will last between 6 to 9 months in the freezer. As long as the frozen applesauce is well sealed and protected from direct contact with freezer air, it will remain as delicious as when it was first frozen.
How To Make Homemade Applesauce To Freeze
Making applesauce at home is easy and can be fun, and it's great to make in large quantities and then freeze the extra. Firstly, you'll need apples. For every three pounds of apples, you'll need: 
⅓ cup (80 ml) of water 
2-4 tablespoons (25-50 g) of sugar or sweetener 
½ teaspoon (1.38 g) cinnamon 
Here's how to make it: 
Acquire your apples. You can use any kind, and they can even be a bit soft, but the best brands are Granny Smith, McIntosh, and Fuji. These brands will give your applesauce the most traditional taste. 
Once you have your apples, you need to peel, core, and chop them. 
Cook the apples in a covered saucepan with water, sugar, and cinnamon for 15-20 minutes, or until the apples are tender. 
Once the apples are tender, remove the lid and let the mixture simmer for five minutes to thicken. 
Mash the apples. You can use a masher for a chunky texture or blend the apples with an immersion blender if you like your applesauce chunk-free. 
After mashing your apples it's time to mix in the water, sugar, and cinnamon and you're done! Simply bag up your homemade applesauce (once cooled) and place it in the freezer.
My favorite masher is the Zulay Kitchen Non-Scratch Potato Masher from Amazon because the top is food-grade silicone, designed to mash directly in the pot and prevent scratches. This silicone is really easy to clean after you're done mashing and the handle has a sturdy grip for the best performance. 
If you need an immersion blender, this Ovente Electric Immersion Hand Blender, also from Amazon, is a good choice. The 300-watt motor is sufficient to blend ingredients in a smooth puree, and it has two blending speeds. The easy-to-grip handle ensures that you have control over the blender and that your mixture won't go flying everywhere!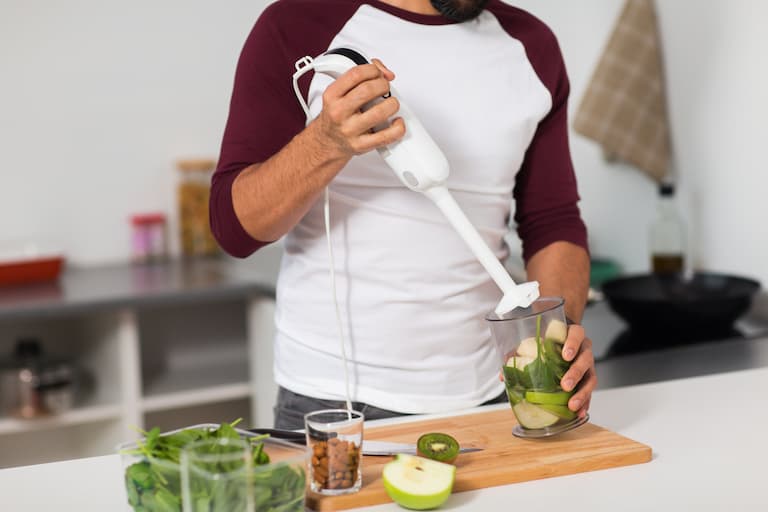 How To Use Your Frozen Applesauce (7 Ideas)
Here are some ideas for how to use your applesauce: 
Use it in a smoothie. You don't even have to defrost it first! 
Make some applesauce cake. If you like your cakes extra sweet, you can even add a simple glaze. 
Bake applesauce muffins. 
Use applesauce to sweeten your oatmeal. 
Infuse applesauce in pancake or waffle batter to improve breakfast. 
For an extra sweet treat, make some applesauce donuts. 
Pair homemade applesauce with pork chops for a delicious savory-sweet combination. 
Of course, you can always just eat your applesauce on its own, too! 
Can You Freeze Applesauce – Summary
Applesauce is a yummy treat, both on its own and in many different recipes. Therefore, it is handy to have on hand! 
You can freeze both homemade and store-bought applesauce, so the next time you're buying or making it, don't be afraid of acquiring a significant amount. You can just pop the extra in a freezer and use it within nine months!