Freezing Jelly Donuts (The Right Way!)
Everyone loves a delicious baked good. From having a croissant and a cup of coffee for breakfast to eating a cookie after dinner, there is just something about these treats that make a day feel special. Donuts are an American favorite, but can you freeze jelly donuts like other baked goods? 
You can freeze jelly donuts like any other bakery treat. Thanks to the surprisingly simple ingredients list, you can keep them fresh for up to two months if you do it right. The trick is to use the proper steps to keep from ruining the fluffy texture of the dough. 
In this article, I'll go over the necessary steps to properly freeze jelly donuts and defrost them when you are ready. Read on to keep those jam-filled delights around for longer! 
How Long Can You Freeze Jelly Donuts?
There has always been a rumor that donuts don't keep well in the freezer. The misconception states that freezing the dough will make it heavy when defrosted and that reheating one will make it hard and chewy. That thinking isn't entirely unwarranted, but there is a method to freeze and thaw all donuts, jam-filled included. 
You can freeze jelly donuts and keep them fresh for up to two months. Some bakers claim you can keep them stored for as much as three. From experience, store-bought and homemade donuts are different, dictating whether they make it two months or three.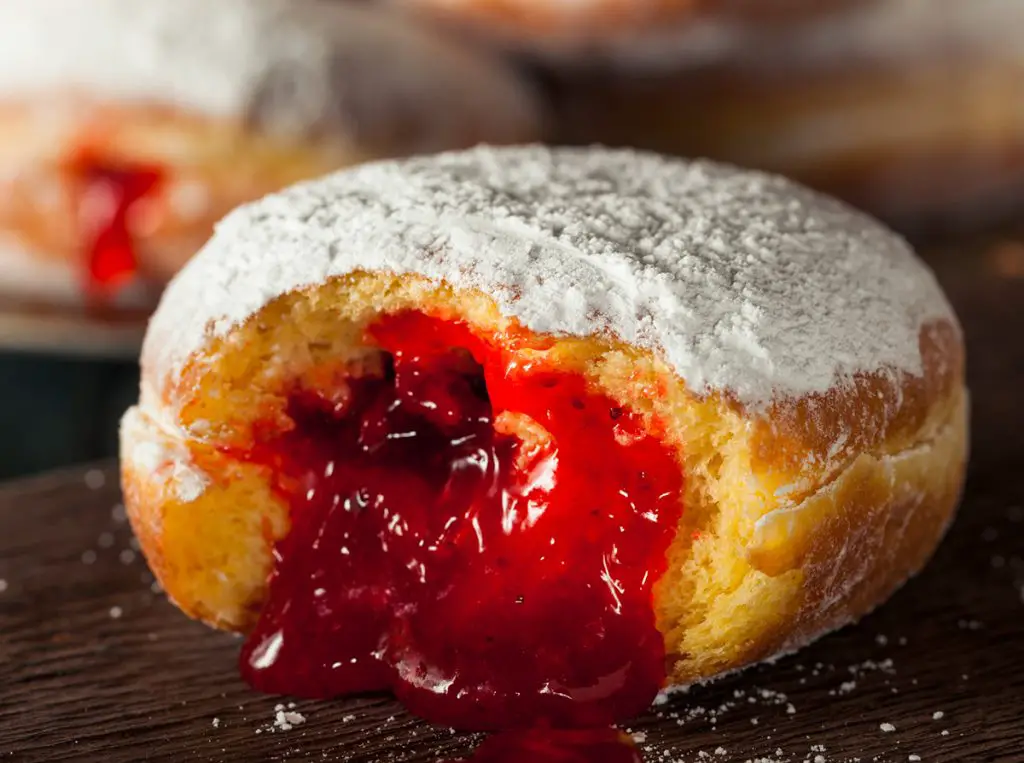 Homemade Versus Store Bought Donuts
Why would it matter where the donuts come from? In some cases, it doesn't. But there is a difference between baked goods you get from a bakery that you know were made fresh that morning and ones you buy already boxed in a store. Brands transported from a factory have a different shelf-life. 
Jelly donuts made by companies like Little Debbie or Hostess can be a nice treat from time to time. But it is hard to know how long it has been since they were made. From the moment they come off the production line to being stocked on shelves, each box loses its freshness. If they are going stale when you open the box, they won't keep nearly as well when frozen. 
Homemade donuts have the benefit of being frozen the moment they are cooled. They tend to last the longest, and making a batch at home is a great way to reach that three-month mark of storage without losing any of the taste or texture. 
Since buying from a bakery guarantees the donuts are, at most, a few hours old, you can get the same result. If you plan on picking up a dozen, getting extras to store is an excellent way to always have a treat on hand for later. 
How To Freeze Jelly Donuts
1. Let the Jelly Donuts Cool
If you are freezing store or bakery bought donuts, this isn't a step you need to worry about. If you have made your own at home, you should wait for them to cool to room temperature before freezing them. This will keep them safe from bacteria, as given by official agencies' food handling and storage guidelines. 
For donuts you don't want to freeze right away, they can be kept in the fridge for up to a week or two hours at room temperatures. Remember that the longer you have them in the refrigerator, the drier the dough will become. They won't be near as fresh going into the freezer, so they won't taste as good coming out. 
The best results come from jelly donuts that have been frozen the same day they are baked. 
2. Line Cookie Sheet With Wax Paper
Wax paper is a great way to keep donuts from sticking to the metal of a pan and so having jelly leak out while being chilled. If you don't have wax paper, you can do a light coat of non-stick spray. Don't use too much, and let it dry a bit before placing the donuts on the sheet. This keeps the bottom from getting wet or greasy. 
Aluminum foil can also be used in a pinch, but be extra careful when removing them. Little bits of foil can sometimes stick to the baked goods and must be peeled off before storing. 
3. Put the Jelly Donuts on the Lined Sheet
Place the jelly donuts on the baking sheet in a single layer. If you have too many to go on one level, place a piece of wax paper over the first and set the next layer on top. If the donuts are glazed or frosted, this could cause the frosting to be pulled off during freezing. To avoid this, freeze in batches. 
Donut holes can also be chilled using a muffin tip, with one hole per cup.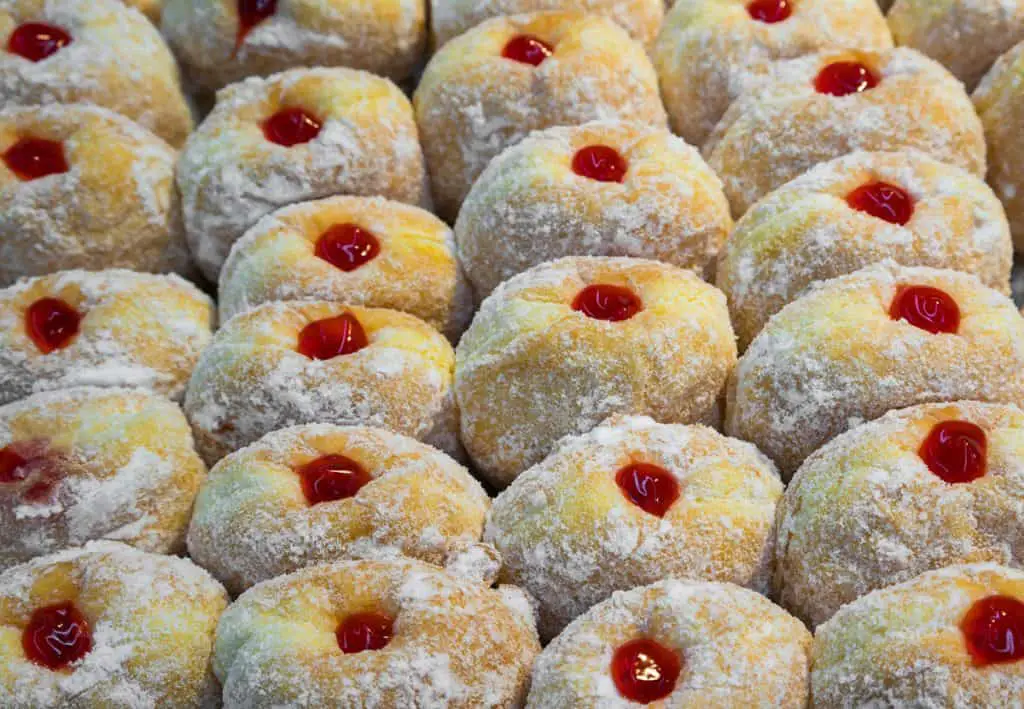 4. Let the Donuts Chill for Two Hours
You don't want to fully freeze donuts right away, as this can cause them to get dry and hard. Instead, chill them in the freezer for two hours. This will begin to set them without affecting the texture of the dough, and the jam inside will be just be beginning to solidify. 
If using donut holes, instead chill for a single hour. 
5. Remove the Jelly Donuts From the Freezer
You don't want to leave the donuts in the freezer for long, but you also don't want to chill them unless you are ready to store them right away. Choose a time when you will be able to monitor them and finish the job. 
Remove the pan from the freezer and carefully use a spatula to pull them from the baking sheet. Be careful when doing this, as some may have split open and leaked jelly. This could cause them to stick. If they don't come up easily, slide the spatula under one side of the donut and gently wiggle it until it reaches further beneath. Then pry it off once you have the spatula most of the way under. 
6. Put the Donuts in a Plastic Store Container
You can choose between different containers for storage. Jelly donuts are best placed in a plastic Tupperware bowl with an airtight lid. You can also use a freezer zip-style bag, though your donuts are more likely to stick together this way. Some will even use a glass jar with a tight lid, though this is more difficult and might not stay fresh for more than a few weeks. 
Place each donut in and then cover with a piece of wax paper or paper towel to keep them separated. The freezing should have made it easier to do this without causing them to stick. Cover the container and place it in the freezer. 
You can also vacuum-seal them, but it may crush the donuts. 
How To Defrost Donuts Correctly
Place your donut(s) on the counter on a plate and leave uncovered. This will keep it from getting soggy when it defrosts. It should be ready in 15 to 20 minutes. 
If you prefer your jelly donuts warm, you can microwave donuts at 15-second intervals. Check them until they're at the right temperature. 
Conclusion
Can you freeze jelly donuts? Sure you can! But doing it the right way will keep your baked goods from getting chewy, stale, or soggy. You can use your freezer to store a whole host of delicious foods and help reduce food waste.