Freezing Sweet Corn with Cream and Butter (How To)
It's sweet corn season. Let's check out a cool way to freeze sweet corn and enjoy it all year long.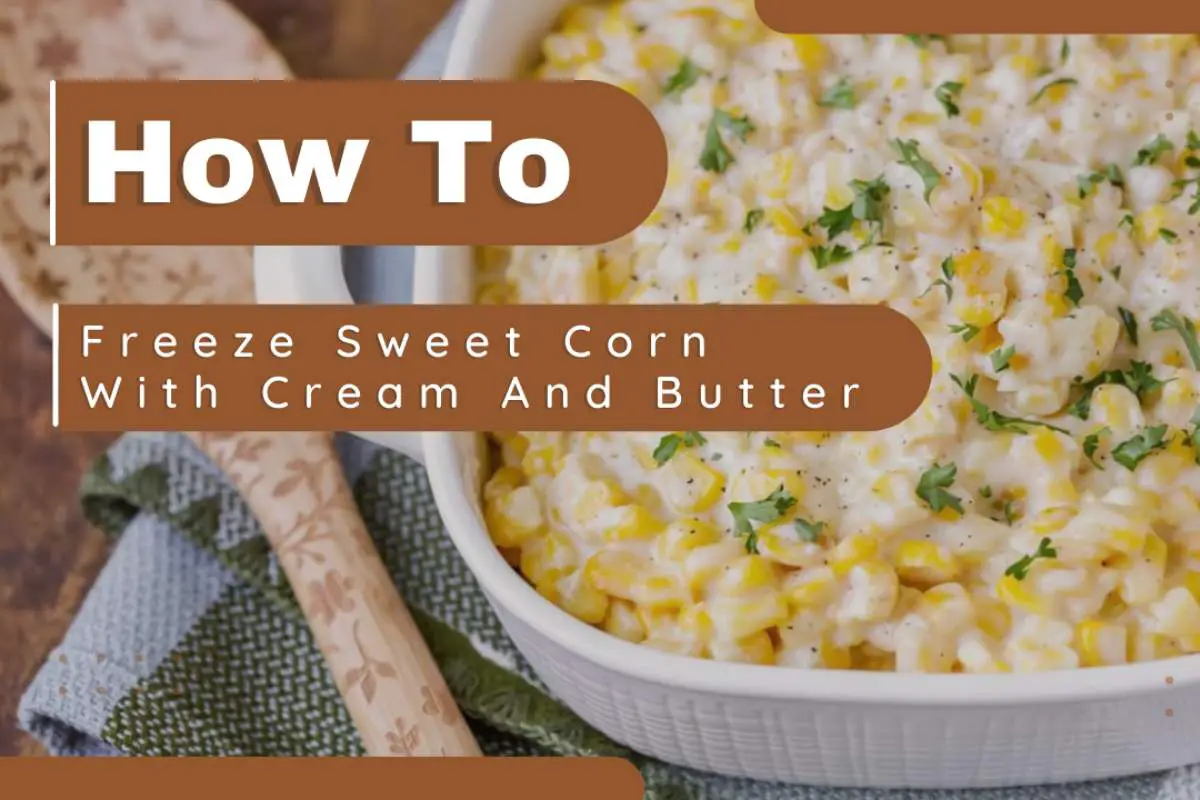 Why Freeze Sweet Corn?
There are many reasons why you would want to freeze corn. First, freezer bags filled with corn can last for months, and many fabulous corn recipes are readily available.
If you're watching your weight, frozen corn has slightly fewer calories than fresh corn with the same nutritional benefits.
A recipe with frozen corn can be as delicious as one with corn cut off the cob. Freezing cooked corn with cream and butter will ensure you preserve the exquisite sweet taste.
How to Freeze Fresh Sweet Corn With Cream & Butter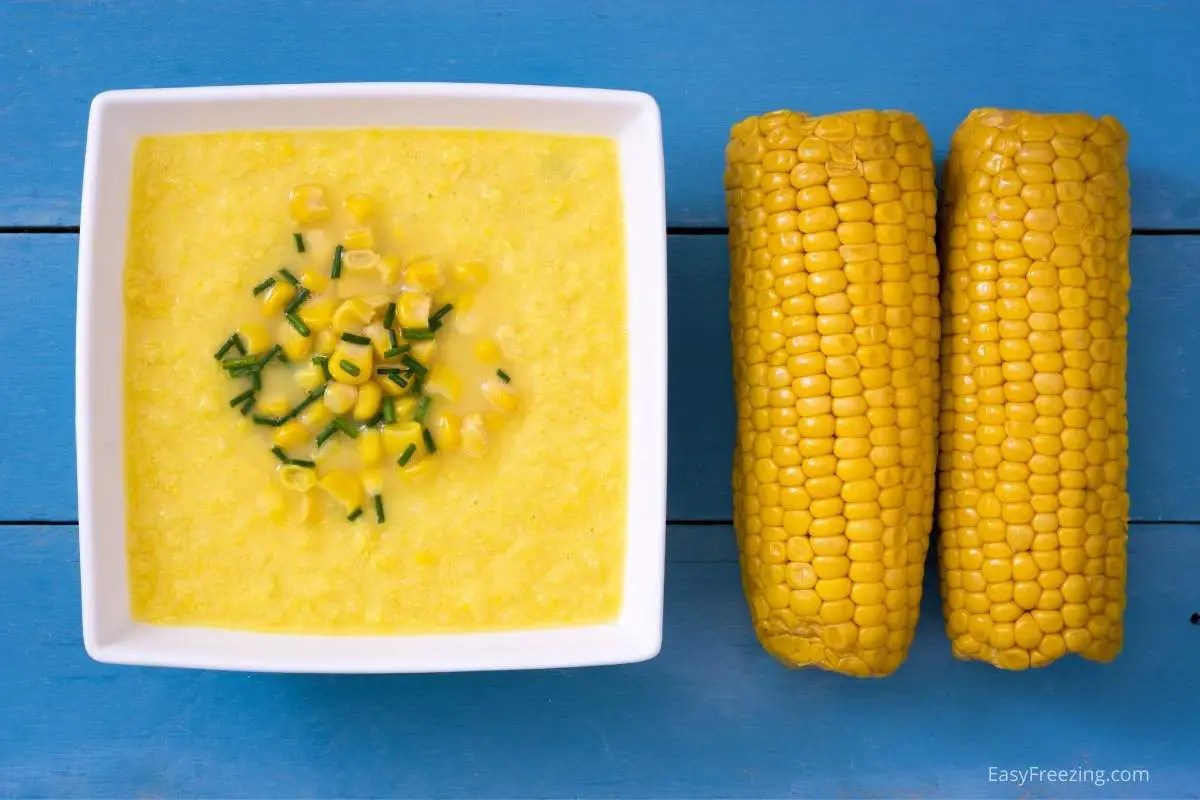 Freezing sweet corn is easy and only requires a few simple steps.
1. Removing Corn from the Cobs
First, let's remove the corn from the cob. This can be tricky as kernels can fly everywhere when being cut. To avoid making a mess, you can use either a Bundt cake pan or a roasting pan to cut corn without making a mess.
Bundt Pan
Place the corn cob upright in the center. This will help keep the cob stabilized. Then, use a knife to cut the kernels, starting from the top. The corn will fall into the pan.
Roasting Pan
You can cut the corn cobs using a large roasting pan. This will give room for corn kernels to fall. Place the cob in or toward the middle of the pan. This will give you plenty of room to cut the corn off the cob and collect the kernels.
2. Gather The Ingredients For Sweet Corn With Cream & Butter
You'll need:
20 ears of sweet corn. Make sure they don't have brown spots (Honey 'n Pearl or Peaches and Cream corn varieties work very well).
3 tablespoons of sugar. You can use less sugar if you're diet calls for it.
2 tablespoons of salt.
Butter. You must use real butter. The taste won't be as good otherwise.
1.5 cups of half-and-half cream.
3. Creamed Corn: How to Cook & Freeze
Boil the sweet corn, sugar, salt, and butter over medium heat (an oven set to 325-350° F will also work). Stir occasionally as the corn cooks.
Gradually add the half-and-half cream while continuing to stir regularly while mixing.
Cook for 30 minutes, stirring occasionally, and reduce the heat toward the end.
Let it cool quickly (15 to 30 minutes).
Package it into freezer containers or plastic freezer bags. Try to remove as much air as possible from each bag. Make sure you mark the date.
Place it in the freezer. If using bags, lay them flat on their side to freeze. Once frozen, you can place them in a long-term storage spot in your freezer without taking up too much room.
How Long Can You Freeze Sweet Corn (w/butter & cream)?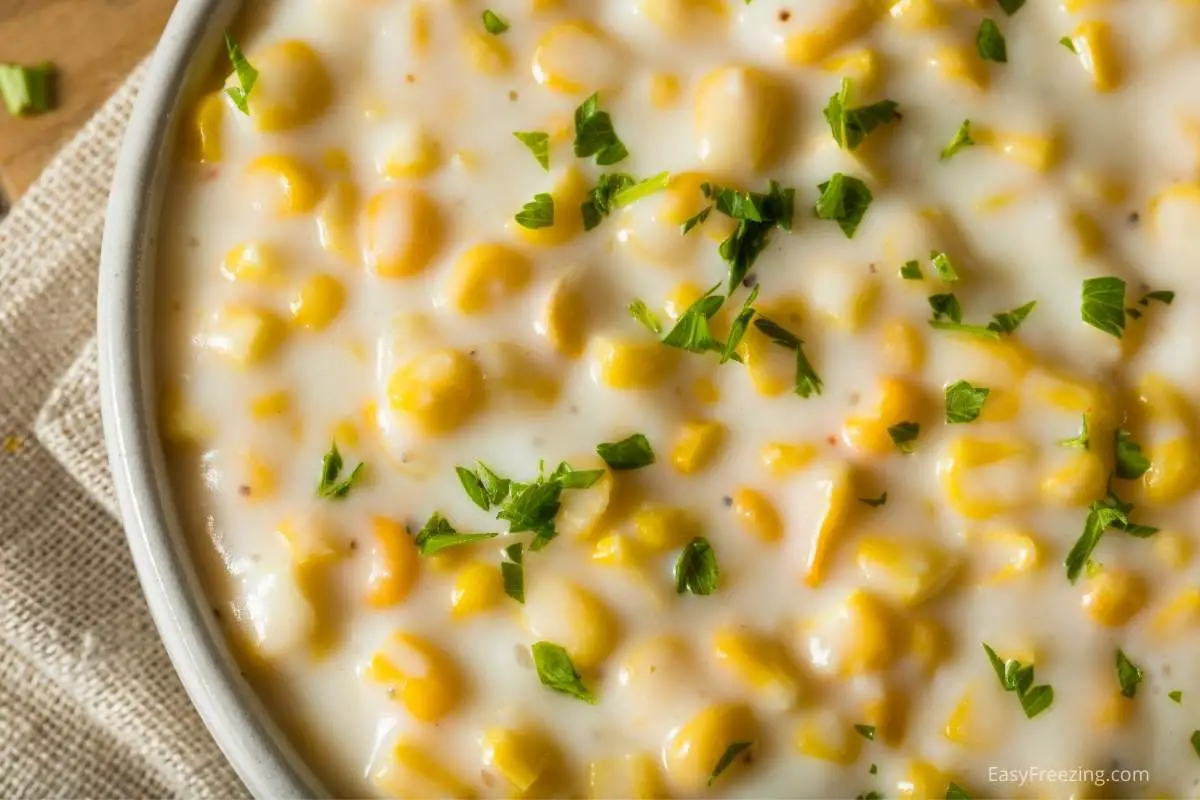 A long time, that's for sure! Sweet corn cooked with butter and cream can maintain quality for up to 6 months in a deep freeze if properly stored.
This is a huge advantage compared to storing fresh corn on the cob, which lasts only a few days.
If you're planning on thawing and heating just a small portion of your freezer corn, the temperature change is the main thing to watch out for. Take as much as you need from the bag to cook with and place the remainder of the corn back in the freezer as quickly as possible to prevent it from partially thawing.
Better yet, divide your cooked sweet corn into appropriate serving sizes and place each of them in its own freezer bag. That way, you'll only have to remove the corn from the freezer that you're wanting to heat and serve.
How To Tell if Sweet Corn Has Gone Bad in The Freezer
Even if your sweet corn has been stored in the freezer for an appropriate amount of time, it is important to check your corn to see if it's gone bad before thawing and reheating.
You can tell when your freezer corn has gone bad when it becomes discolored or shows dry spots (freezer burn). Also, if the corn smells weird, it must be disposed of.
What to Make with Creamy, Buttery, Frozen Sweet Corn
Now that you've learned how to prepare and freeze sweet corn with cream and butter, I wanted to give you some ideas on how to best use it.
Creamed sweet corn can be added to soup, pasta, rice, nachos, tacos, salads, pies, pizza, and plenty of other things. It can be served both as a side dish and a main dish. You can cook it in a variety of ways depending on what you're going to serve.
Below are a few simple yet excellent recipe ideas you can try out:
Creamed Corn
Perhaps the simplest corn recipe – a perfect side dish that can work with almost anything. You're good to go with a few additions of sweet onion, pepper, nutmeg, a touch of parsley, and 15 minutes of your time.
Chicken Stew with Sweet Corn and Potatoes
Chicken Stew is already good on its own, but by combining it with sweet corn, this recipe will give you one of the tastiest, creamiest stews imaginable.
Bean and Corn Salad
This colorful salad is a gorgeous item on the table. Olive oil, vinegar, sugar, salt, cumin, garlic, and chili powder whisked together, followed by corn, rice, a couple of bean types, onions, cilantro, and red pepper; now that's a mix!
Cheese Sauce with Corn
There are many ways you can nail a hot creamed cheese sauce with freezer corn; you can seldom go wrong. Each time you can try baking it with a new type of cheese such as cheddar, parmesan, camembert, Velveeta, etc. A blend of cheese and sweet corn will also work with various vegetable supplements, including broccoli, beans, potatoes, carrots, etc.
Freezing Sweet Corn with Cream and Butter – Final Thoughts
You will no longer have to wait a year to eat fresh sweet corn with butter and cream. Freeze it properly, and you'll never have to worry about how delicious it will be.
Don't forget to be creative now that sweet corn is more than just a summer food. Try adding it to a new recipe and see how much it can make everything taste better.