Freezing Tomato Sauce in Plastic Containers (Yay or Nay?)
Tomato sauce is a resourceful and often used ingredient that suits and improves dozens of dishes and recipes. So it only makes sense to store it properly to maintain its quality. Freezing tomato sauce in a plastic container will guarantee this. However, it is not the only option.
In this article, I will tell you everything you need to know about using plastic containers for freezing tomato sauce and other food items.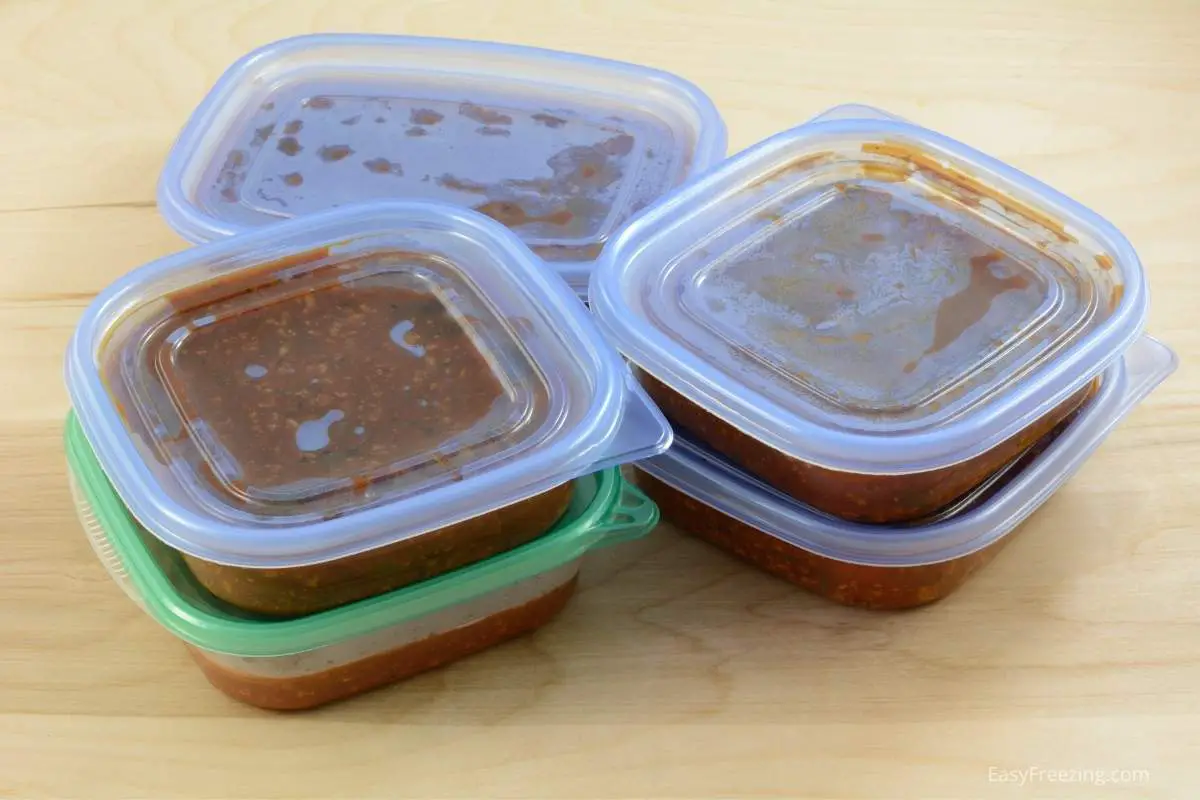 Best Containers to Freeze Tomato Sauce
In the long run, the container you choose for the sauce makes little to no difference. Choose the one you have on hand: plastic containers, glass jars, freezer-safe bags, pyrex glass containers, etc., they all work!
Most types of containers hold up well in the freezer, especially heavy-duty freezer bags, as they're designed to keep foods frozen for long periods. The only inconvenience is that you can't pop these plastic bags directly into the microwave.
If you want to use a glass container to store your marinara sauce, go for the ones with plastic lids so that they seal tightly. Also, make sure to use a glass container that is freezer safe, otherwise, you run the risk of the glass shattering.
Plastic containers are perhaps the best option because they come in all shapes and sizes, which means they are great for saving space in your freezer. The only drawback to storing tomato sauce in a plastic container is that the sauce will stain the plastic.
Pro Tip: If you coat your plastic container with a thin layer of butter before adding the tomato sauce, it will prevent the plastic from becoming stained.
Are BPA-Free Containers Worth it?
BPA-free plastic containers are one of the best choices. BPA is a harmful chemical that is often used to make cheap plastic objects like water bottles. Check that your containers are BPA-free before buying them. The last thing you want to do is harm the environment or your health.
Need some BPA-Free Containers? Check out these Fullstar Food Storage Containers with Lids over at Amazon.com.
Are Plastic Containers Airtight?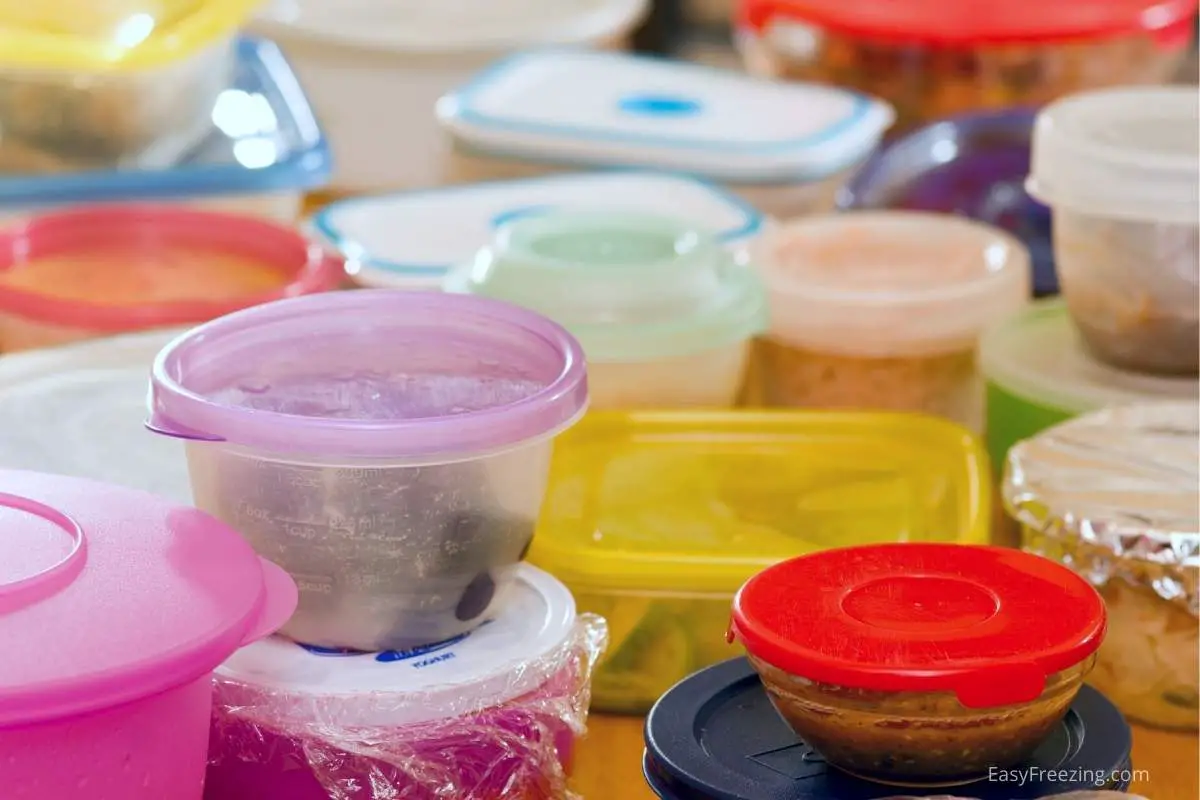 A good plastic container will lock out the air when stored in the freezer, which is a must for freezing tasty pasta sauces. Since air ruins the freshness of the sauce, you'll want to ensure that the container is sealed tightly and that there is no air present.
Having said that, some freezer-safe plastic containers are more airtight than others. An airtight container lid should snap on tightly to keep air and other contaminants out of your tomato sauce.
An easy way to tell if the plastic containers you have are airtight or not is to fill them with water, snap on the lids and turn them over. A container that is not airtight will leak.
Are Plastic Containers Good for Resisting Temperature Changes?
A plastic container meant for the freezer will be made to resist cold and hot temperatures, making it simpler to move from the freezer to the microwave.
When buying plastic food storage containers, look for the words "Freezer-Safe" and "Microwave Safe." This will mean that you can move your tomato sauce directly from the freezer to the microwave. Just a quick heat and your tomato sauce is ready to be poured over any dish.
Are Plastic Containers Resilient?
Plastic is not nearly as resilient as other materials, such as metal or glass, so you risk damaging plastic containers more easily. However, high-quality plastic containers tend to last for several years before needing to be replaced.
Will Plastic Absorb Flavor from the Food?
One problematic issue is that plastic is known for absorbing flavor too easily. Suppose you want to add sauce to a plastic container that previously had lemon juice. Before adding the tomato sauce, you must ensure the container is properly washed to eliminate the unwanted smell and flavor.
However, this is not a significant problem since the solution is undemanding: save a special container used solely for freezing and heating tomato sauce. That's it!
How Can You Prepare Homemade Tomato Sauce?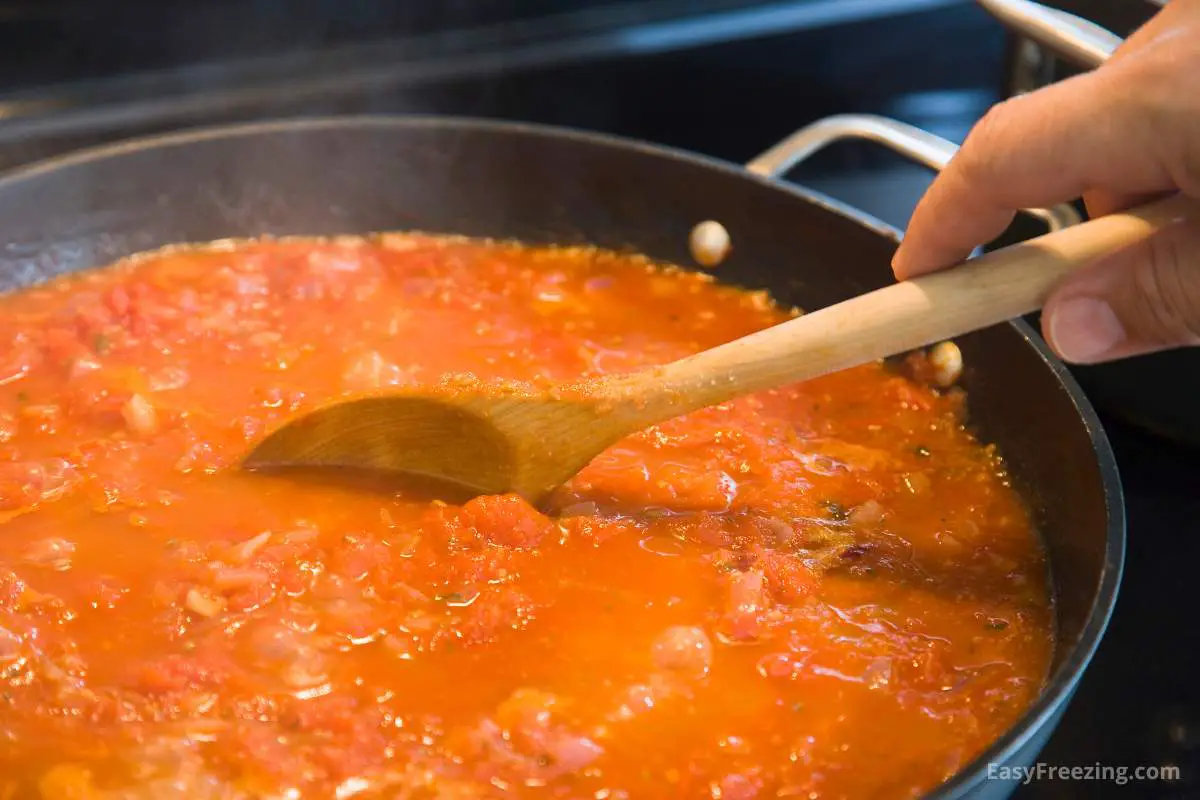 If you're a fan of freezing tomato sauce, it's likely that you may be interested in making your own homemade sauce.
Homemade tomato sauce is easy and fun to prepare. If you follow these steps correctly, you'll create a special sauce with a better flavor than any canned tomato sauce on the market. Better still is to use fresh tomatoes. If you can cook with garden fresh tomatoes, then you'll wish you had started making your own sauce sooner.
Ingredients
First, get the right ingredients (these quantities will make one quart of sauce):
Tomatoes (six pounds)
Half an onion
One clove of garlic
1/2 teaspoon of oregano
1/4 cup of olive oil
Salt
Pepper
Preparation
Once you have all your ingredients, put the tomatoes in boiling water for two minutes. As a result, the skin will be easier to remove.
Then, take the tomatoes out of the hot water. Put them in cold water to stop cooking them and to avoid burning your fingers when peeling them.
Peel the tomatoes and cut them in half. You can also remove the seeds if you want. Alternatively, you can leave the seeds since they won't ruin the sauce.
The next step is to add the oil to a pot or pan, then add the onions and garlic. Season with salt and pepper, and sauté everything for a couple of minutes.
Lastly, combine the tomatoes with the rest of the ingredients and cook for a few minutes.
Let it come to a boil, and then lower the heat so it simmers. Stir the sauce now and then to avoid burning and sticking to the bottom of the pan. Do this for approximately three hours.
When you finish, wait for the sauce to cool completely (room temperature is enough).
Spoon your tomato sauce into your plastic containers to place in the freezer.
Note: You can also use canned tomatoes if you don't have fresh tomatoes. Use the same ingredients and mix them in a food processor.
FAQs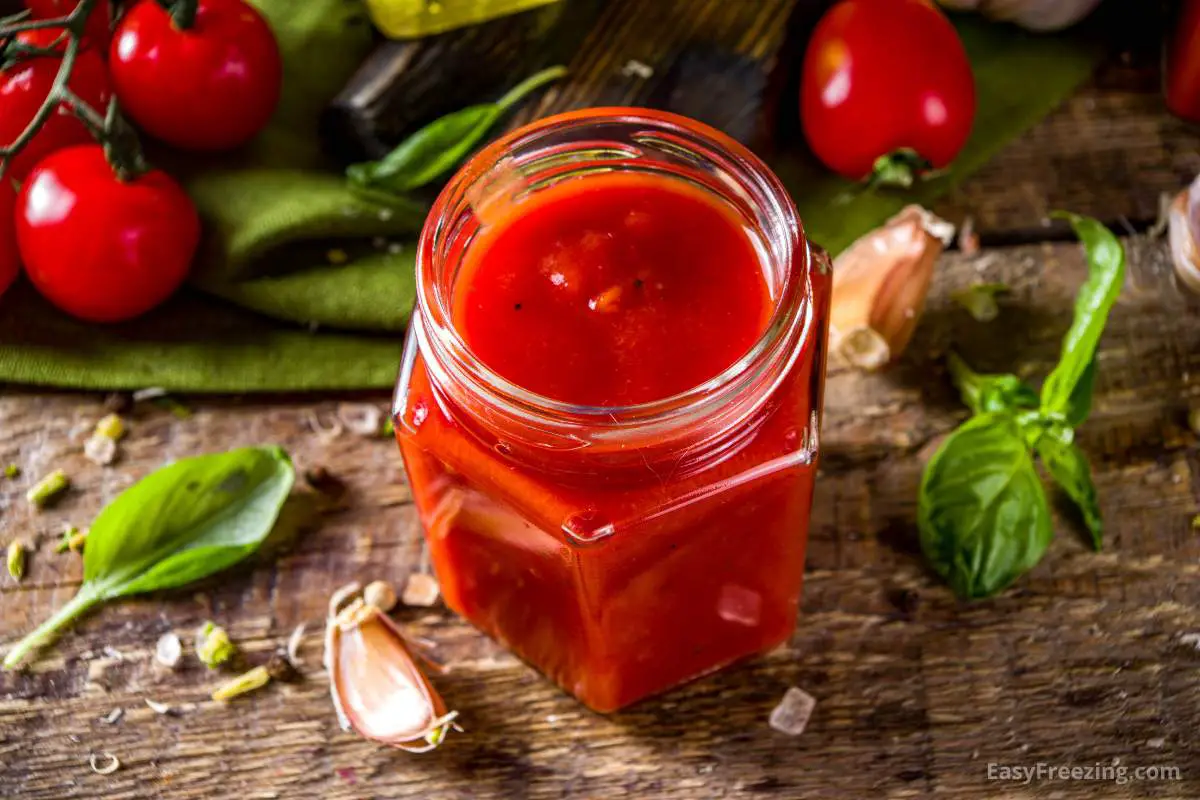 Can I Freeze Spaghetti Sauce in Mason Jars?
Mason jars are made for resisting cool temperatures and are known to be handy freezer-proof glass containers. Therefore, you can put sauce or soup in these jars and then keep them in the fridge or freezer. It is a great idea to store and freeze pasta sauce in these jars.
How Long Does Tomato Sauce Last in the Fridge?
The recommended time to store tomato sauce in the fridge is five days to a week. After that period, the sauce develops a mold that ruins the flavor and releases harmful toxins. You don't want to risk your health, so if the sauce has begun to form mold on the surface, get rid of it.
How Long Does Tomato Sauce Last in the Freezer?
If you want to freeze homemade tomato sauce, keeping the sauce in the freezer allows for longer shelf life. Freezing spaghetti sauce for up to three or four months is recommended. The longer you keep frozen tomato sauce, the more likely it will be ruined by freezer burn. So, freezing tomato or pasta sauce for too long must be avoided at all costs.
Will Freezing Tomato Sauce Affect its Flavor?
Freezing tomato sauce affects its flavor, but only if you do so for extended periods. The longer you keep tomato sauce in the freezer, the more the flavor diminishes.
Is Freezing Tomatoes a Good Idea?
You can freeze fresh raw tomatoes. Cut them in half, and freeze them on a tray or dish for two hours. Later, take them out and put the slices in a freezer bag. Lastly, put them back in the freezer to preserve the tomatoes long-term.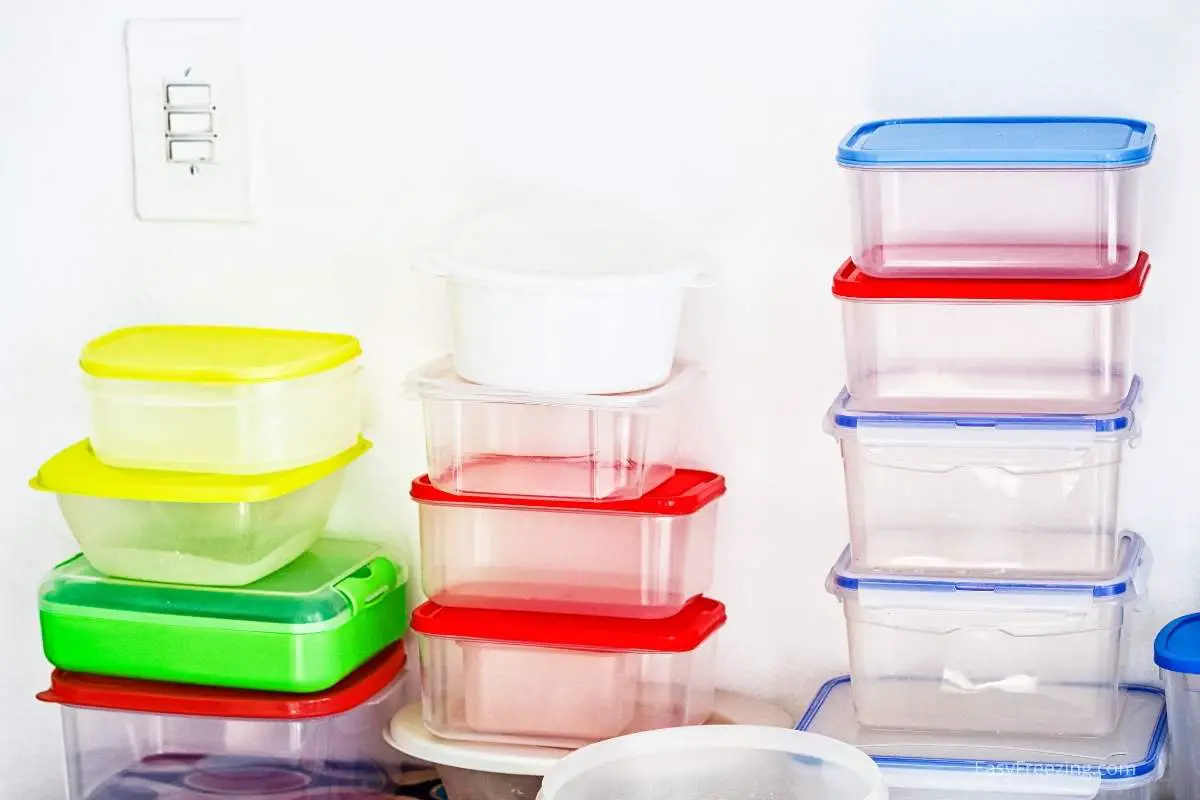 Freezing Tomato Sauce in Plastic Containers – Conclusion
Plastic containers are fantastic for frozen spaghetti sauce, any kind of tomato sauce for that matter, and any other frozen food, plus they work for both short and long-term freezer storage.
Plastic storage containers are also convenient for freezing tomato sauce as you can pull the container out of the freezer and put it in the microwave to reheat without damaging it.