Can You Freeze Pesto? (Yes…Here's How!)
During the summertime, many gardeners find themselves dealing with a bounty of fresh basil. Basil is a bushy plant that grows very fast in a short period. For many families, this initiates what is known as pesto-making season.
The basic pesto recipe has not changed for centuries. It is a delicious blend of ground-up fresh basil leaves, garlic, pine nuts, olive oil, and Parmesan cheese. 
So, how can you store this bounty of pesto to use throughout the year? Can you freeze pesto?
You can freeze pesto, and in fact, pesto freezes very easily. The most convenient way to freeze pesto is by pouring or spooning it into ice cube trays. The resulting pesto cubes can be added to whatever dish you're making and will keep in the freezer for up to six months.
Keep reading to find out exactly how to freeze pesto, plus a couple of tips to keep in mind when storing your pesto in the freezer. I'll also give you a great recipe for making your own homemade pesto!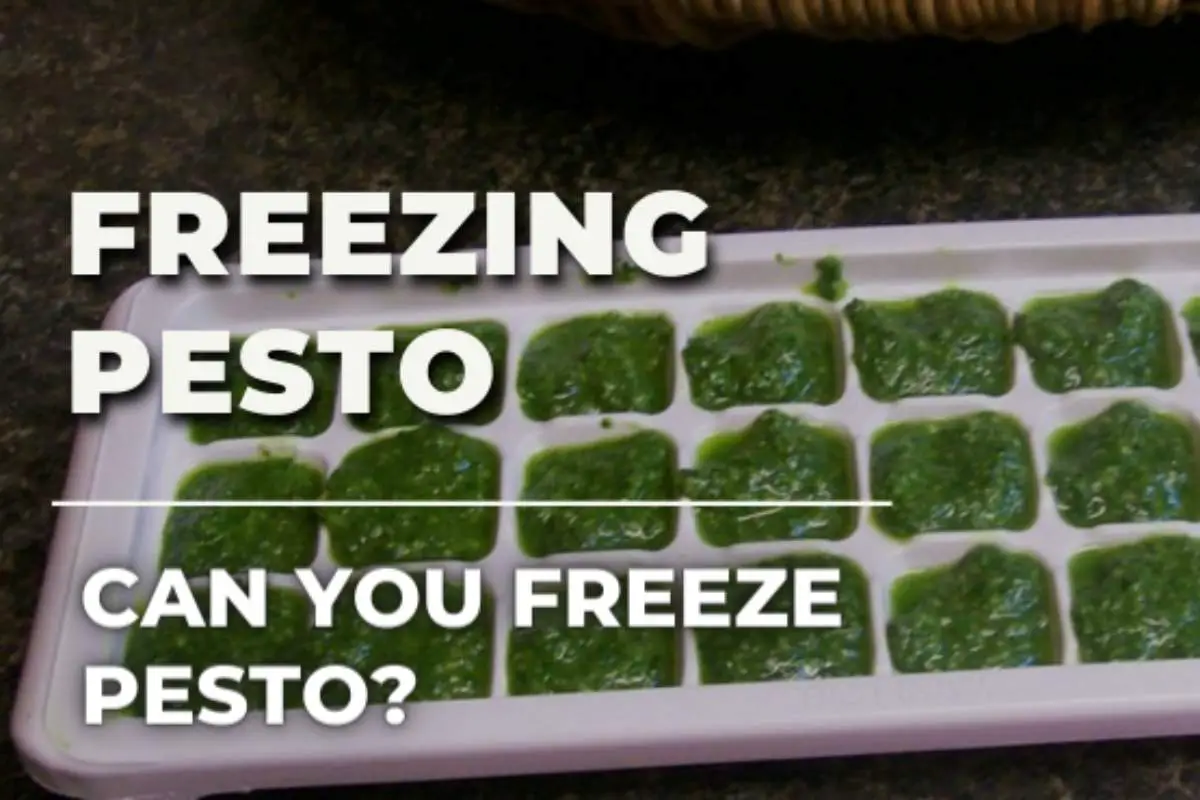 How to Freeze Pesto
There are a couple of different ways that you can freeze pesto, including in freezer bags, mason jars, or plastic containers. However, the most convenient way to freeze pesto is to use ice cube trays.
Using Ice Cube Trays To Freeze Pesto
Pesto freezes beautifully in a metal ice cube tray. You can also use a plastic or silicone one. When freezing pesto cubes, be sure to give the entire tray one final drizzle of olive oil to keep the air out.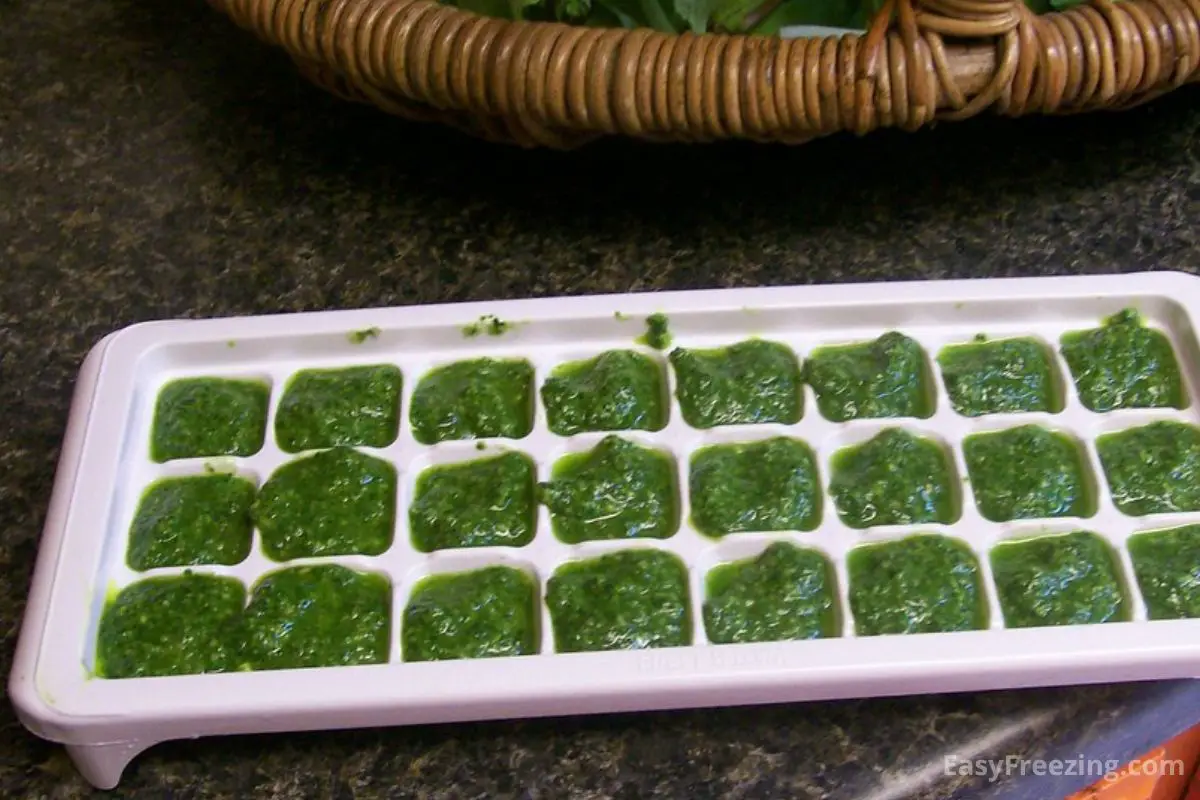 You can buy ice cube trays that have pop-off tops or use plastic wrap. When you are ready to use the pesto on pasta, salad, or sandwiches, simply pop them out of the cube compartment and thaw.
You can also pop out the pesto cubes once they're frozen solid and store them in a freezer ziplock bag. This will free up your ice cube trays for regular ice cubes.
Tips For Freezing Pesto
Freezing pesto is quite easy. However, there are a couple of tips that will help ensure that your pesto holds up well in the freezer.
Use Only Fresh Basil
Basil is a leafy plant, which like parsley, coriander, and other green herbs, degenerates quickly when stored in the freezer.
To mitigate this factor, use the most fragrant, thickest leaves of pesto available, preferably cut fresh from a garden.
Use Lots of Olive Oil
No matter what container you use, be sure to cover the product completely with a layer of olive oil. This acts as a sealant against air, thus protecting it from freezer burn and loss of flavor.
Once you've put the pesto to freeze in the container, just drizzle some extra olive oil over the top, and you should be good to go.
Ways to Use Frozen Pesto
Once thawed, there are many ways to use frozen pesto.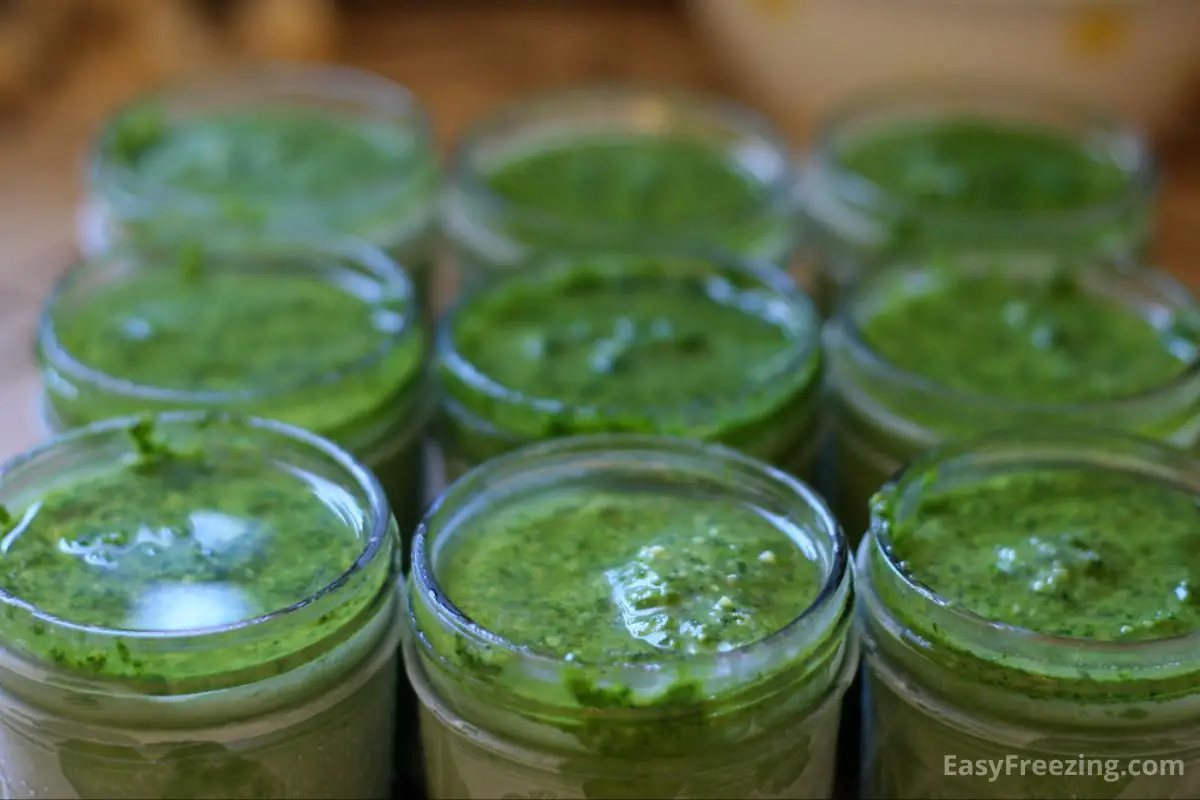 Pesto Sauce on Pasta
The most common way to use thawed pesto is to mix it with pasta and a bit of the hot water from boiling the pasta, and then top it with more grated cheese and a squirt of lemon.
Another variation of pesto pasta is to mix an egg quickly into the hot noodles before adding pesto.
Pesto Appetizers and Dips
One of the most common ways to eat basil pesto as an appetizer is to spread it on toasted crostini bread and top it with fresh tomato slices and Parmesan cheese.
Any kind of pesto or pesto-like paste can also be used by itself as a dip, or it can be mixed with sour cream or cream cheese.
Soups and Salads With Pesto Sauce
Frozen pesto cubes can easily be whisked into a salad dressing made with oil and vinegar. Pesto sauce also livens up the flavor of tomato or chicken soup.
Pesto Sandwiches
Pesto goes well with sour cream, mayonnaise, and mustard. It is often used in paninis and sandwiches made with fresh or deli turkey.
You can use pesto sauce in a tomato-mozzarella panini, or you can put it on a pizza and top it with olives, tomatoes, and chicken.
Pesto Sauce on Meat and Fish
Pesto goes well with any type of fish or meat. It can easily be used as a rub that crisps up nicely when it is placed on the barbecue.
Pesto is one of the handiest foods that you can have as it can be used in all kinds of ways, as a soup and sauce base, as a rub for meats, dressings, or fillings. When it is plentiful, it is economical to make a large batch of pesto to last you through the winter.
Types of Pesto (Pesto From Around The World)
Basil pesto is a traditional Italian sauce that originated in the Liguria Province in Genoa. It is still known today as Pasta Genovese.
Homemade pesto, made from olive oil, basil, garlic, and pine nuts, was originally ground up with a mortar and pestle. The Italian word pesto means to "pound to a powder with mortar and pestle."
In both ancient times and today, pesto is added to soups, stews, meats, pastas, and salads. You can also make basil bread by adding it to bread dough.
Italian Pesto Variations To Freeze
Aside from the traditional recipe for pesto (Pesto Genovese) that finds its origins in a cookbook from 1863 called La Cuciniera Genovese by Giovanni Battista Ratto, there are many other freezable pesto recipes.
Pesto alla calabrese is regional to Calabria, Italy, and is made from roasted bell peppers, black pepper, basil leaves, garlic, and olive oil. Pesto Rosso is the red Sicilian version. It contains tomatoes, a bit less basil, and more garlic.
Yet another type of Italian pesto that is easily frozen is called Gremolata or gremolada, and it's made from chopped parsley, lemon zest, garlic, breadcrumbs, and sometimes anchovies.
Pesto From Other Countries To Freeze
Other countries also have versions of pesto. In Provence, France, pesto is called Pistou, and it's made of crushed basil leaves, garlic parsley, and grated cheese.
In Spain, it is called Romesco and is made with roasted chili peppers, sweet red peppers, tomatoes, pine nuts, olive oil, and garlic.
The German version is known as Wild Garlic pesto. It is made from ramps (also known as wild cow's leek) and rapeseed oil. The pesto tastes like a cross between garlic and onion.
In Peru, it is called Tallarines Verdes. Spinach leaves are ground up with basil leaves and feta giving them an extraordinary green color.
Pesto-Like Pastes
Traditional pestos are actually pastes. You find versions of these pastes, which can be frozen, in cuisines from all over the globe.
Indian Tandoori paste, a blend of curry, onions, garlic, chilis, ginger, and yogurt, freezes well, as does Thai curry paste.
Mediterranean Harissa paste is made from parsley, cilantro, garlic, olive oil, and dried cayenne peppers. Like Thai and Tandoori pastes, Harissa does not contain cheese.
Mexican pipian is a mole sauce that resembles pesto. It's made from chili peppers, vegetable oil, onions, pumpkin seeds, peanuts, sesame seeds, and herbs. There is also a green paste made from tomatillos (little green tomatoes), green pepper, and extra virgin olive oil.
All of these different types of pesto freeze beautifully in freezer bags, jars, or ice cube trays.
The Classic Homemade Pesto Recipe
The classic Pesto Genovese recipe can be whipped up quickly in a blender or food processor.
Pesto Genovese (Pesto With Basil, Garlic, and Pine Nuts)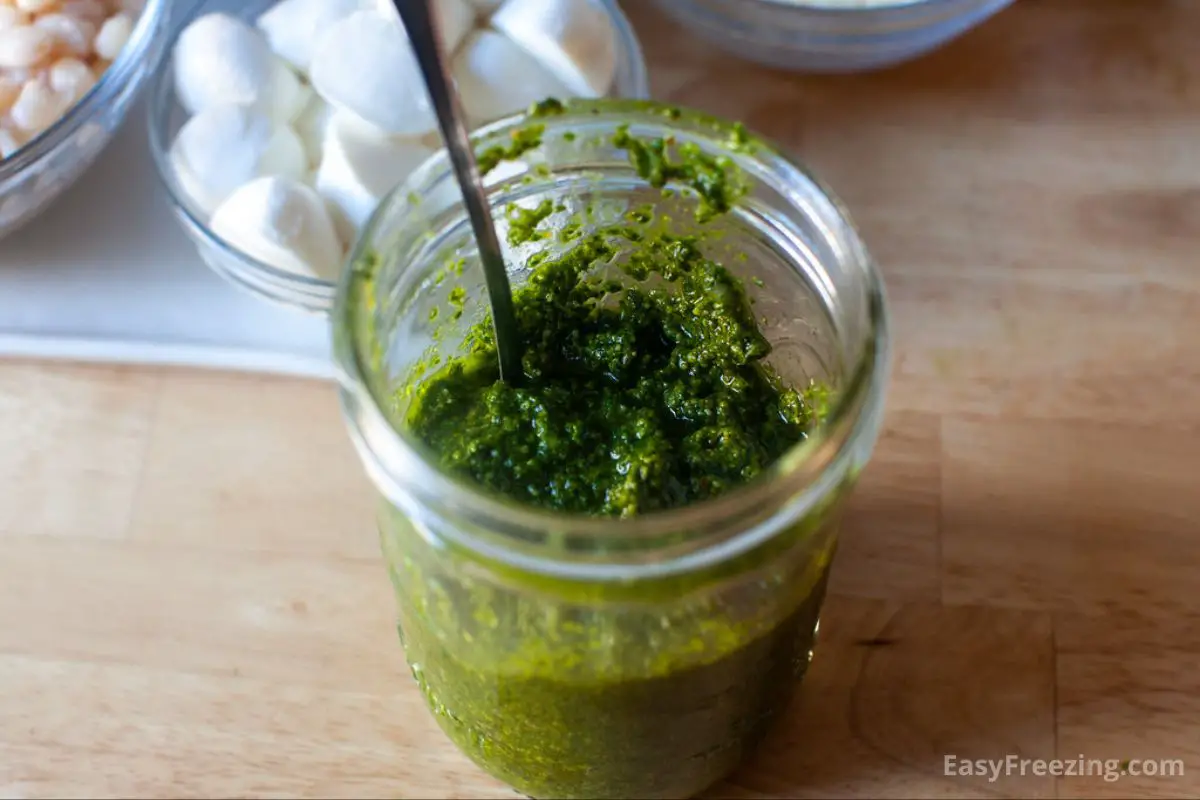 First, assemble the ingredients:
2 cups of basil leaves (packed)
1/3 of a cup olive oil
1/2 cup pine nuts
1/2 cup Parmesan cheese
1 clove garlic
Salt and pepper
Deposit all of the ingredients in a blender and puree them into a paste.
It's that easy! Enjoy!